'' May 2017 Dubai, UAE: Minerva Research Labs launches in the Middle East (UAE, Bahrain, Kuwait, Lebanon), the innovative Gold Collagen® liquid beauty supplements, a new generation skincare solution from within. The revolutionary collagen drink is based on a unique blend of active ingredients such as hydrolysed collagen and hyaluronic acid, vitamins and minerals, chosen for their anti-ageing benefits. Launching in Middle East this summer, the advanced formulations are specifically developed to maintain healthy skin, hair and nails by stimulating the natural collagen production and increasing skin hydration as well as elasticity; skincare starts with a sip.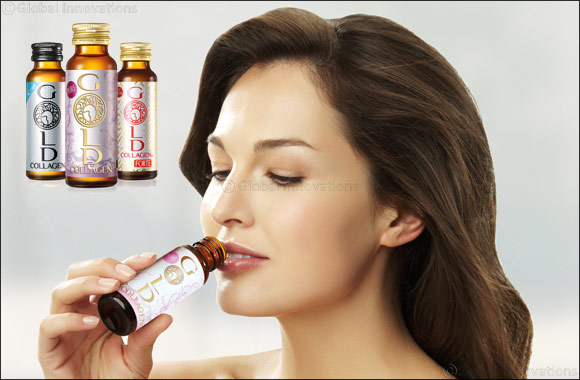 Gold Collagen® liquid supplements are designed to fight the signs of ageing and to reduces the appearance of fine lines and wrinkles, up to 20 times more effective than collagen tablets and pills, readily absorbed by the body and have a pleasant taste. Hydrolysed collagen, one of the key active ingredients, remains intact during the digestive process and is easily absorbed into the bloodstream. Once it reaches fibroblast and chondrocyte cells, it stimulates them to produce new collagen, elastin and moisture-retaining hyaluronic acid, essential elements for the health of skin and joints. Gold Collagen® products are formulated with the highest quality hydrolysed marine collagen, made up of small peptides containing short chains of amino acids, which makes it easier to absorb. Hydrolysed collagen helps the body to form new collagen structures.
It provides the amino acid building blocks and also stimulates the natural production of new collagen, elastin and moisture-retaining hyaluronic acid molecules [...].'' Click here to read full article on the website.